Who am I and what do I do?
Hello everyone, I am Aleksi Ojansivu, co-founder of Boreal Foundry and producer of our unannounced game. I handle the financial side for our company and the project management for our game. We use modified Scrum as an agile process framework for managing the game development and I manage all the Scrum related processes. In addition to Scrum, some of my other responsibilities are handling the scheduling of the development and facilitating meetings and events. Our creative director Christian handles the creative side of the project and he is the one who makes sure we follow the vision of the game. I also handle the quality assurance for the game so if you ever find anything broken in the game, definitely don't blame me.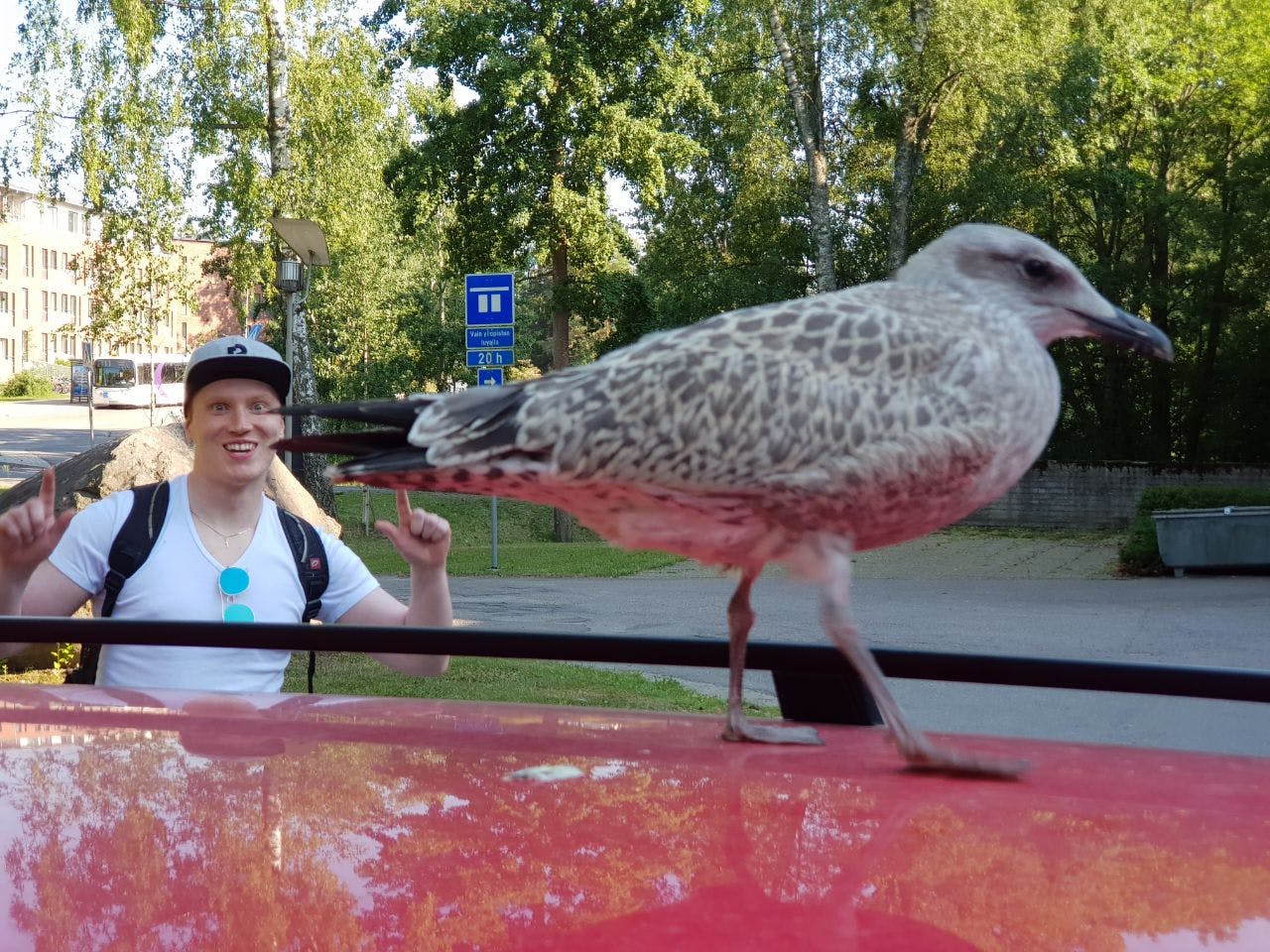 Seagull chick attacking Mikko's car while we were leaving work and me goofing in the background.
What have we done so far?
The past two years have been very interesting to say the least. We have gone from developing games as a hobby to founding our company and committing to making our first commercial game. It's funny to think that a year ago we had no company and our game was barely more than a concept. Before focusing on creating the demo itself, we had done a lot of design work like establishing a high level feature set for the whole game. Most of our time was put into learning, since we had never developed games before. It wasn't fast or easy for us to build even the basic feature sets, but we managed to pull through and learned a lot. Now for the past 4 months, we have really been focusing on making a good demo of the game, and during that time the game has grown so much. About a month ago we finished the first iteration of our demo, which was a big milestone for our company. Right after that we held our first private testing event for the demo.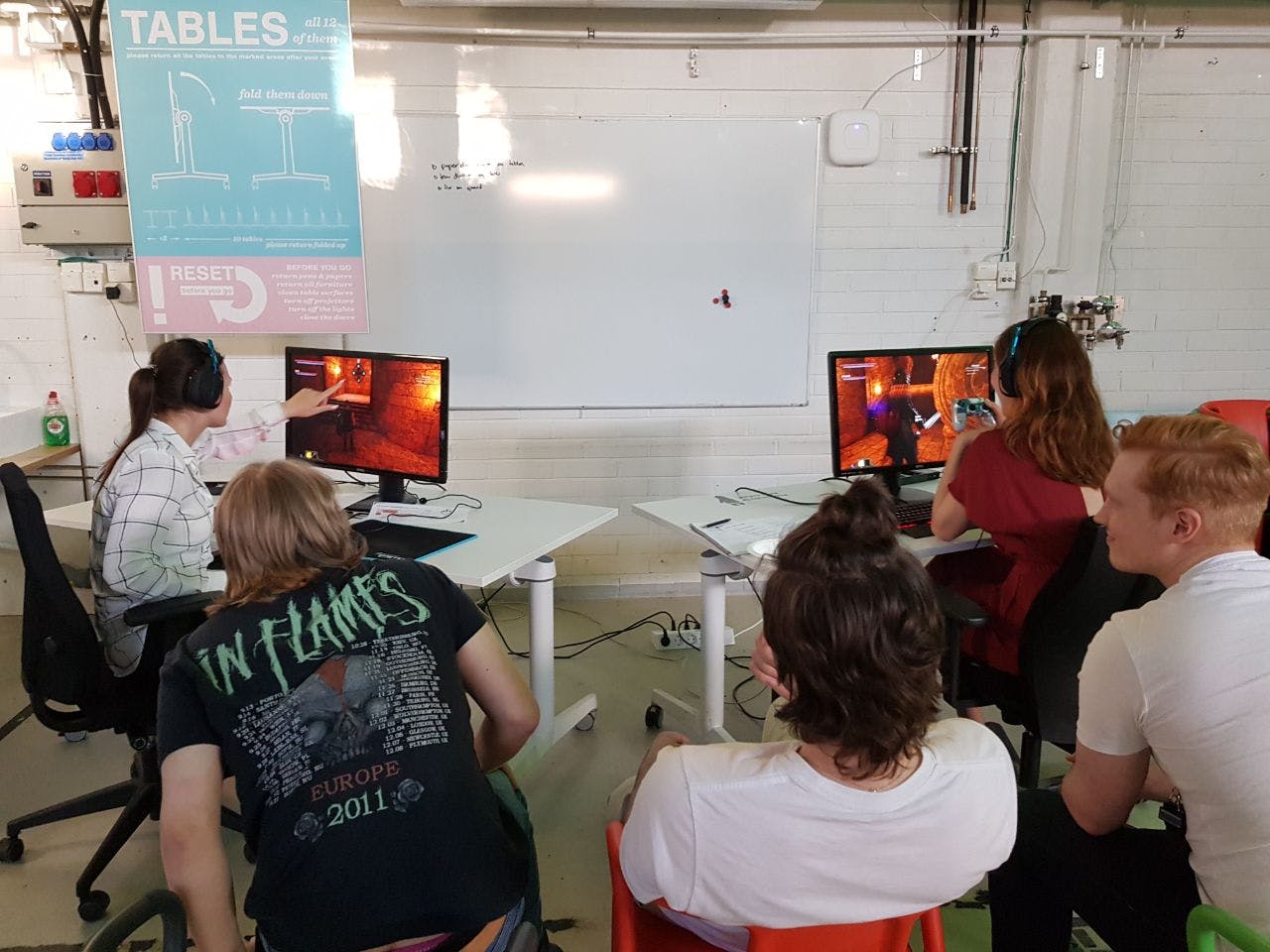 Solving an in-game puzzle.
The picture above contains a little sneak peek of one of our demo's puzzles, and of course solving it requires a lot of communication between the players. It was really nice to see people outside our own development team play our demo and to observe how people progress through it. That very puzzle turned out to be slightly too hard of an obstacle due to a lack of clear indications on how certain mechanics worked. Even so, some of our amazing testers managed to pass the puzzle. Kudos to them! Thanks to the test event we got a lot of valuable feedback from the testers, and based on the feedback some of the new features we're a looking at developing are stronger story telling, an expanded ability system and new ways of co-operating with your friend. I will be posting more about our progress in upcoming blog posts, so stay tuned for those. Hopefully we can post some pictures of the gameplay in the near future as well!
What are our dev blogs, why do we do them and what can you expect from them in the future?
Our plan is to post Dev Blogs every 3 weeks, and they will show what we have managed to do during the previous 3 week sprint. For those not familiar with the concept, sprint is a fixed time-box for iteration often used in Scrum. How detailed these Dev Blogs are going to be is something that we will see in time, since this is the first one. Dev blogs for us is a way to engage with our community and show our progress throughout the development. This is important for us, because we want to interact with our community during the development and give our community a possibility to truly participate in it.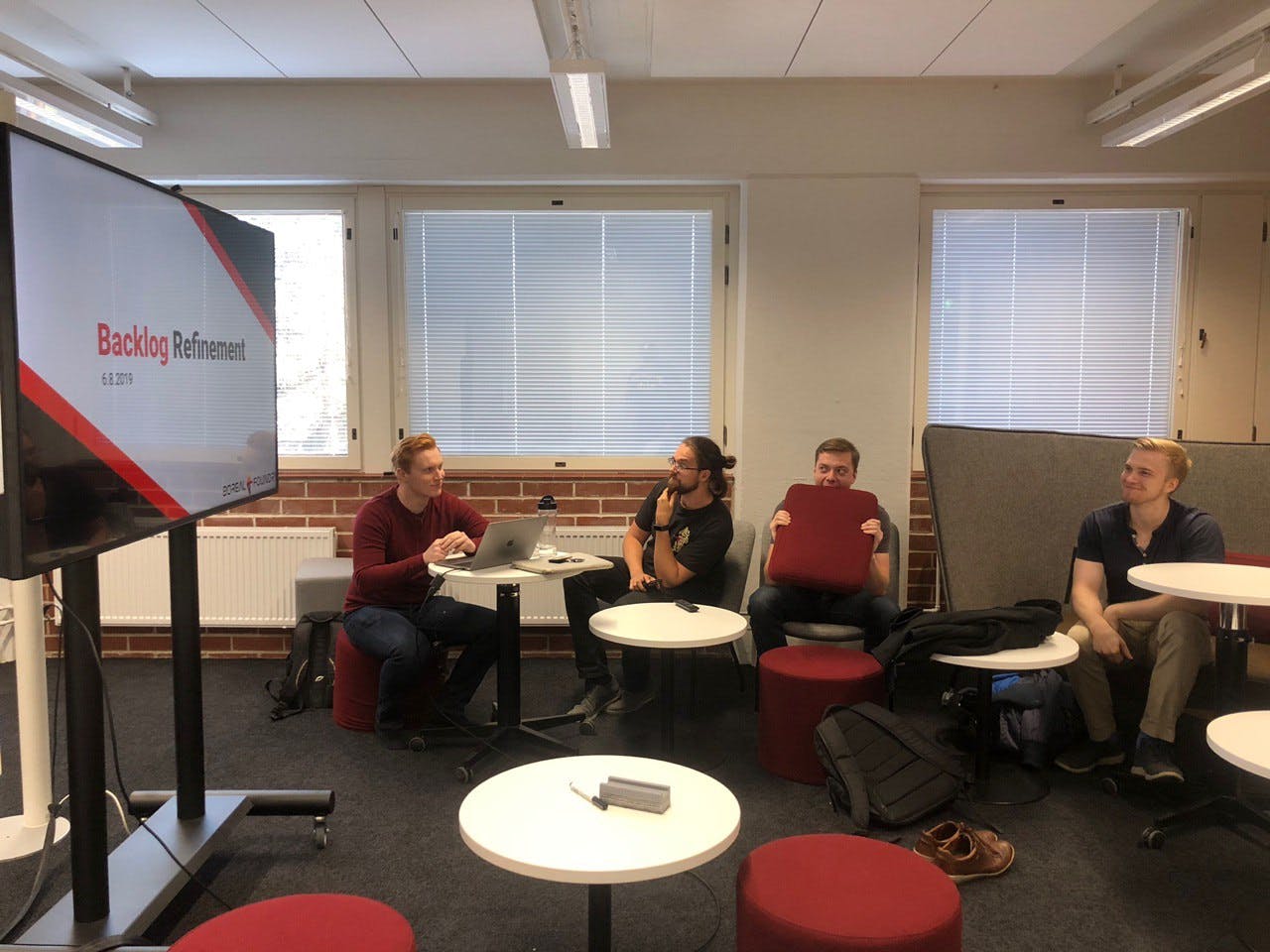 Refining our backlog for future sprints.